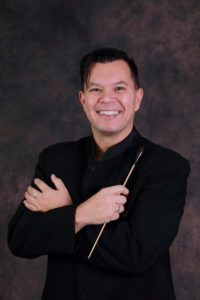 Jon S. Noworyta is in his third season as the Music Director and Conductor of the Cincinnati Brass Band. He is Assistant Professor of Music and Director of Bands, Instrumental Activities, and Educational Outreach at the University of Indianapolis. There, he administers all aspects of the woodwind, brass and percussion area, teaches basic and advanced conducting and courses in music education, and conducts the Symphonic Wind Ensemble and Pep Band. A versatile conductor who is equally comfortable with orchestras as well as wind and brass groups, Noworyta is also the Assistant Conductor of the Cincinnati Chamber Orchestra and the Artistic Director of the Queen City Freedom Band; ensembles he continues to work with in addition to his duties at UIndy and the CBB. In demand as a clinician and guest conductor, ensembles under his direction have performed at local, state, national, and international venues including the Midwest Band and Orchestra Clinic, the Music for All National Concert Band Festival, Chicago's Symphony Center, the Kennedy Center, at various European venues, and most notably Carnegie Hall.
Noworyta was the Music Director and Conductor of the Amherst Chamber Ensembles (ACE) from 1994 to 1999. The ACE Orchestra gave the local or world premieres of thirteen different works by composers from across the nation during his tenure. His continued commitment to high quality new music in the years since, has led to the commissioning of works  for wind ensembles across the country by composers Rossano Galante, Michael Markowski, Clint Needham, Shawn Okpebholo, and Charles Rochester Young. His work has won Noworyta the praise of such influential composers as Leslie Adams, Jennifer Higdon, Karel Husa, Timothy Mahr, and David Maslanka, as well as conductors Harry Begian and Arnald Gabriel. Noworyta has twice collaborated with world-renowned pianist James Tocco in performances of the music of George Gershwin and David Maslanka.
Noworyta is a member of several professional organizations, is listed among the Who's Who in America Educator's Edition, and is on the advisory team for the 28,000+ member "Band Director" Facebook group. He was the 2012-13 Distinguished High School Teacher in Wheaton-Warrenville School District 200 and is a member of the Fine and Performing Arts Wall of Fame at North Tonawanda High School (his Alma mater).
Noworyta holds degrees from Baldwin-Wallace College (BME), Northwestern University (MM), and the College-Conservatory of Music at the University of Cincinnati (DMA). Additional studies in conducting have taken place in workshops at the Eastman School of Music, the New England Conservatory, and the Juilliard School.