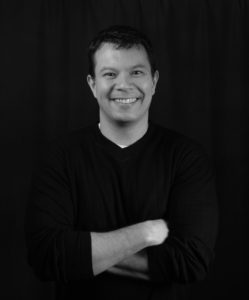 Jon S. Noworyta, conductor, is the appointed Music Director and Conductor of the Cincinnati Brass Band. Jon was awarded his Doctor of Musical Arts degree in Wind Conducting from the University of Cincinnati College-Conservatory of Music where he also served as a Graduate Conducting Associate. He is also the Assistant Conductor of the Cincinnati Chamber Orchestra.
Noworyta is the former Director of Bands at Wheaton North High School where he conducted and administered all aspects of the band program and taught music technology and music theory. He was previously Associate Director of Bands at Naperville (IL) North High School and taught instrumental music North Tonawanda, NY. Ensembles under his direction have performed at local, state, national, and international venues most notably Carnegie Hall, where the Wheaton North Wind Ensemble was invited to perform in 2009 and 2015. Wheaton North Wind Ensemble appeared at the 2010 Midwest Band and Orchestra Clinic and the 2013 Music for All National Concert Band Festival. Noworyta has conducted at Chicago's Symphony Center, the Kennedy Center and Carnegie Hall.
In addition to giving the local or world premieres of thirteen different orchestral works by composers from across the nation from 1994-1999, Noworyta's commitment to high quality new music led to the following commissions for wind ensemble: in the midst (Shawn Okpebholo, 2014), Escapade (Charles Rochester Young, 2013), and Second City Vignettes (Clint Needham, 2005). He has conducted the Illinois state premiers of Robert Sheldon's 1000 Cranes (2010) and Needham's Legacies (at the 2010 Midwest Band and Orchestra Clinic) among numerous other premiers.
The most recent of these premiers were in April 2017:
Laura Harrison's, Corners of the Sky for Piano and Orchestra, Michael Markowski's Machiavelli's Conscience, and Cristina Spinei's Clarinet Concerto.
His work has won Noworyta the praise of such influential composers as Leslie Adams, Jennifer Higdon, Karel Husa, Timothy Mahr, Robert Sheldon and Charles Rochester Young as well as conductors Harry Begian and Arnald Gabriel. Noworyta has twice collaborated with world-renowned pianist James Tocco in performances of the music of George Gershwin and David Maslanka.
Mr. Noworyta's professional affiliations include the National Association for Music Education, College Band Directors National Association, World Association of Bands and Wind Ensembles, National Band Association, Lesbian and Gay Band Association, Gay Lesbian Straight Educational Network, the Conductors Guild, and the Illinois and Ohio Music Educators Associations. Mr. Noworyta is listed among the Who's Who in America Educator's Edition and is on the advisory team for the 20,000+ member "Band Director" Facebook group. He was the New 200 Foundation 2012-13 Distinguished High School Teacher in Wheaton-Warrenville School District 200 and is a member of the Fine and Performing Arts Wall of Fame at North Tonawanda High School (his alma mater).
A Western New York native, Noworyta holds degrees from Baldwin-Wallace College (BME) and Northwestern University (MM). He is graduate of the College Conservatory of Music of the University of Cincinnati where he has studied wind conducting with Dr. Terence Milligan and Dr. Glenn Price, and orchestral conducting with Aik Khai Pung.